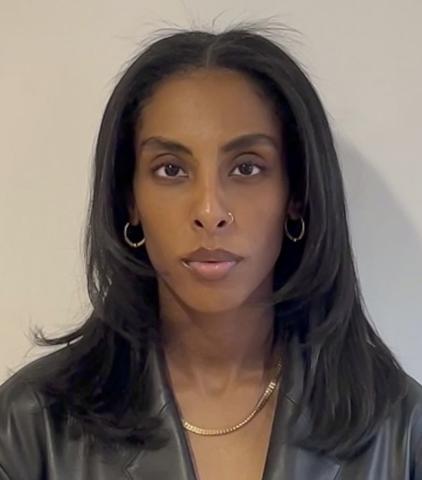 Visiting Assistant Professor of Black Studies
326 Gentry Hall
ook3f@missouri.edu
Bio
Ola Osman is a Ph.D. Candidate at the University of Cambridge's Center for Multi-Disciplinary Gender Studies and a Gates Scholar. Her doctoral research maps the continuities between transatlantic slavery, its attendant racial logic, and its relation to ethnicity's role in the Liberian civil war. She completed her MSt in Women's Studies at the University of Oxford as a Clarendon Scholar. She is also the Co-Founder and facilitator of the Race Talks Seminar Series, based at the University of Cambridge Centre for Gender Studies. It investigates processes and histories of race-making and gender-making.
Teaching
BL_STU 1801 - Introduction to Africa and the African Diaspora
BL_STU 2405 – Understanding Africa
BL_STU 2704 – African Political Thought
BL_STU 2804 -  Black Political Thought
BL_STU 3005 – Topics in Black Studies (Black Diaspora Women's Reproductive Justice)
BL_STU 4640/W - African Politics
BL_STU 4773 – Pan-Africanism
Select Publications
Osman, O. (2022) "Rethinking the Liberian Predicament in Anti-Black Terms", Angelaki: Journal of the Theoretical Humanities, 27(3-4), 34-48, DOI: 10.1080/0969725X.2022.2093933 
Lawson, Erica S, and Ola Osman. 2022. "Maternal Activism and the Politics of Memorialization in The Mothers of the Movement: A Black Feminist Reading." In A. Crosby, M. de Alwis, and H. Evans eds. Remembering and Memorializing Violence: Transnational Feminist Dialogues. 
Lawson, E., Anfaara, F. W., & Osman, O. (2021). Sustainable Development Goals and the internal logics of "gender equality" in the Liberian context. In A. Williams & I. Luginaah (Eds.), Geography, Health, and Sustainability: Gender Matters Globally (1st ed.), Routledge.
Lawson, Erica S, Florence W. Anfaara, Vaiba K. Flomo, Cerue K. Garlo, and Ola Osman. 2020. "The Intensification of Liberian Women's Social Reproductive Labor in the Coronavirus Pandemic." Feminist Studies, 46(3): 674-683.