Walter C. Daniel Endowment
Pioneer in Black Studies in higher education and the study of African-American literature honored at MU through endowment.
Walter C. Daniel, PhD, professor emeritus department of English, University of Missouri, came to MU in 1973 as the university's first vice chancellor. He was instrumental in helping reorganize the University's administration. However, his success as an administrator  ever overshadowed his love of teaching and working with students. He touched the lives of many MU students in his role as professor, advisor and mentor.
To honor Dr. Daniel, the Walter C. Daniel Resource Center was established in the Black Studies Department at the University of Missouri and an endowment created in the same name to enable the Department of Black Studies to purchase reference materials that can be used in the study of Africans in the Diaspora. The Center also houses Daniel's extensive private collection of African-American Literature. Gifts to this endowment honor Daniel's career and promote the study of the Diaspora.
Donors of $500 or more will be listed on a plaque in the Walter C. Daniel Resource Center.
Mary Crawford King and Louis King Endowment in Black Studies
Mary Crawford King and Louis King Endowment in Black Studies
One or more annual awards shall be given to students majoring or minoring in Black Studies in the College of Arts and Science.

Recipients shall be participating in a study abroad program in Africa, the Caribbean, the West Indies or South America with an interest in studying people of African descent. 

If the recipients give presentations or reports on the study abroad trips they took using awards from this fund, the donor requests that they acknowledge they were able to make the trip due to support received from the "Mary and Louis King Endowment in Black Studies."
James S. Rollins Slavery Atonement Endowment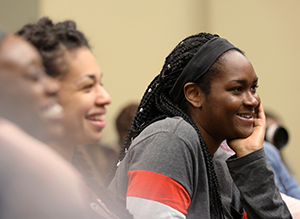 In 2007, Clay Westfall Mering, the great-great grandson of James S. Rollins, known by the honorary title "Pater Universitatis Missouriensis" (Father of the University of Missouri), and other descendants created the endowment to support research including, but not limited to "slavery, race relations, civil rights, or African American culture, as these subjects pertain to the African American experience." The endowment annually provides up to $500 research support for students.
2019 Recipients
Andrew Olden, History: Power from the People: Tenant Activism in the Pruitt-Igoe Housing Complex, 1950-1980
Ekaete Udoh, Exploring Black Collegiate Women's Experiences with Microaggressions on Campus
Daphne Valerius, When Black Women Are Not Enough
Arvarh E. Strickland Endowment
The Missouri Endowed Chair and Professorship Program, established with the support of the state's legislature, created the Arvarh E. Strickland Distinguished Professorship of African American History and Culture in 1998. The distinguished professorship recognizes Arvarh E. Strickland, author of History of the Chicago Urban League and editor of Lorenzo J. Greene's volumes Working with Carter G. Woodson, A Diary, 1930-1933.
In 1969, Dr. Strickland became the first African American to receive a tenure-track appointment at the University of Missouri. Until he retired, Dr. Strickland, a nationally known historian, participated in curricular changes and directed undergraduate and graduate studies at the University of Missouri where he was largely responsible for the increase in the African American enrollment.
The Strickland Professor has the rights, privileges, and obligations of faculty in the College of Arts and Science at MU where his or her duties shall include teaching and research in both the Department of History and the Department of Black Studies. It is expected that the faculty holding this joint appointment will produce publications for professional and lay audiences in addition to lecturing nationally and internationally on subjects related to African American history and culture. Also, the Strickland Professor is expected to provide a presence that will continue to influence the University of Missouri's success rate in the recruitment of minority faculty and students.
Dr. Charles Sampson Endowed Scholarship in Public Affairs and Black Studies
Friends, family, and colleagues of Dr. Charles Sampson have established a permanently endowed fund at the University of Missouri-Columbia in honor of Dr. Charles Sampson's retirement from the University. This fund will provide scholarship awards to underrepresented minority students pursuing education in the Truman School of Public Affairs and the Department of Black Studies in the College of Arts and Science
Charles Sampson, Ph.D., is a founding faculty member of the Harry S. Truman School of Public Affairs. He was also instrumental in writing the proposal to establish the Department of Black Studies. He joined the MU faculty in the summer of 1988 initially serving as associate dean of the Graduate School and as Chief Academic Officer from 1996-2000. He was the first African American to hold these positions. During his appointment at MU he sought and obtained greater than $15M in grants and contracts to support the matriculation of graduate and undergraduate programs on the MU campus and across the state. These contributions allowed him to provide unique opportunities for future scholars
Dr. Sampson has served as a member of the national council of American Society of Public Administration (ASPA) and on editorial boards of American Review of Public Administration, Public Administration Review, and Journal of Social Policy and Public Management. His public policy and administration research has been published in refereed scholarly journals and book chapters. One of his primary areas of research was redistributive public policies with current emphasis on the impact of voting rights policy on the emergence of minority-governed municipalities. Sampson formerly served as the chair of the committee on fiscal affairs for the MU Faculty Council and serves as the MU representative to the International Consortium on Public Management Policy and Development (ICPMPD), a group of institutions, agencies and non-governmental organizations in Africa and the United States organized to strengthen and promote public-civil society partnerships in the advancement of sustainable development in sub-Saharan Africa.
In 2012, he was appointed as a Fulbright Scholar in Thailand. Since 2001, Dr. Sampson has worked as a member of the Consortium for International Management Project and Development (CIMPAD), a collection of American professors, health care professionals, legal experts, and others who operate much like the physicians without walls program, to work with developing democracies in Sub-Saharan Africa on projects of their choosing. This opportunity has availed an extraordinary experience of collaborating with fifteen countries on that continent.
Dr. Sampson continues to work with the International Association of Local Governments in Asia and Africa. He also continues international project work in Thailand with the Ministry of the Interior and non-governmental organizations. He is an emeritus professor in the Truman School.