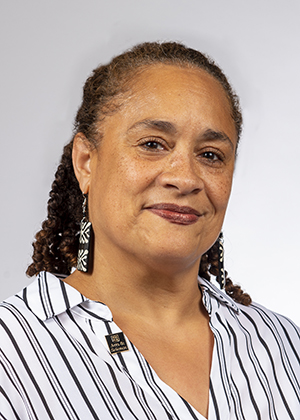 Chair, Department of Black Studies, Associate Professor, English (she, her, hers)
311 Gentry
573-882-4326
langleya@missouri.edu
Bio
April Langley began teaching at the University of Missouri in 2001, when she joined the faculty as an Assistant Professor of English in the newly developed area concentration of African Diaspora Studies. She graduated summa cum laude with a B.A. in English from Mills College; she attended the University of Notre Dame and received her PhD in English in 2001. Langley specializes in eighteenth- and nineteenth-century African American and American Literature and Theory. Her courses include such topics as early black narrative forms (conversion, captivity, slave narration, travel, and spiritual autobiography), eighteenth-century Afro-British American poetics, and nineteenth-century black women writers. Her interdisciplinary research integrates African Diaspora literature, African, American and African American Studies, and Black Feminist/Womanist theory and criticism. She has published articles in The Western Journal of Black Studies, a/b: Autobiography Studies, bma/Sonia Sanchez Literary Review, as well as review essays for Legacy and Early American Literature. Her book, The Black Aesthetic Unbound: Theorizing the Dilemma of Self and Identity in Eighteenth-Century African American Literature (Ohio State University Press), explores the culturally specific African origins of the eighteenth-century Afro-British American literary and cultural self through a conceptualization of the dilemma posed by competing African, American, and British cultural identities. Additional book projects include Looking for Phillis, an in-depth study on the Senegambian poetics and oral traditions that influence the poetry of Phillis Wheatley. She is also a Phi Beta Kappa member, 2001 AAUW fellow, and a 2003-2005 Postdoctoral Fellow in African and Afro-American Studies at Washington University in St. Louis. Research and Teaching: 18th- and 19th-century Africana and American Literature, Religion, Gender Theory (Black Feminisms/Womanisms), Autobiography and Critical Theory.. She has been an affiliate of Black Studies since 2001, jointly apponted faculty in 2010, and served as Assistant Director of Black Studies Program from 2009-2013, until it officially achieved department status in 2013 in the College of Arts & Science, where she is currently appointed chair of the Black Studies Department. She is also an affiliate in the departments of Relgious Studies and Women and Gender Studies.
Teaching
Black Studies 1000: Introduction to Black Studies
Black Studies 1705: Black Studies in Culture: Writing Early Black Women's Spiritual Identity
Black Studies 2425: Race and The American Story
Black Studies 2977: Theoretical Traditions in Black Studies: The Literature of History, Culture, and Society
Black Studies 3977: Black Studies Methodologies
Black Studies 3703: Black Studies in Culture: Reading Black
English 3400W: Survey of African American Literature, Beginning to 1900 (Writing Intensive)
English 4407/7407: Topics or Genres in Anglophone Africana Literature, 1603-1789
English 4488/7488: Major African Diaspora Women Writers, 1789 to 1890
English 8410: Africana Theory and Literature Criticism
Select Publications
"Anna Julia Cooper's Quintessential Resistance in the Early Pan-Africanist Voice of Women," Black Resistance in the Americas: Slavery and its Aftermath, (Routledge, November 2018) 95-105.
"What a Difference a Way Makes: Wheatley's Ways of "What a Difference a Way Makes: Wheatley's Ways of Knowing" Reprinted in African American Poets: Volume 1: 1700s-1940s (Bloom's Modern Critical Views) by Harold Bloom (New York: Chelsea House Publications, 2009) 199-239.
"Eighteenth and Nineteenth Century Slave Narratives" Oxford Encyclopedia of American Literature" (New York: Oxford UP, 2008). 415-430
"The Eighteenth-Century Black Wor(l)d and Early Writers' Biblical Literacy" Beyond Douglass:  New Perspectives on Early African-American Literature.  (Lewisburg: Bucknell UP, 2008) 55-68.
"Black Women's Suffrage." Humanities Magazine. Missouri Humanities Council (Spring/Summer 2019): 10-12.